Bariatric Surgery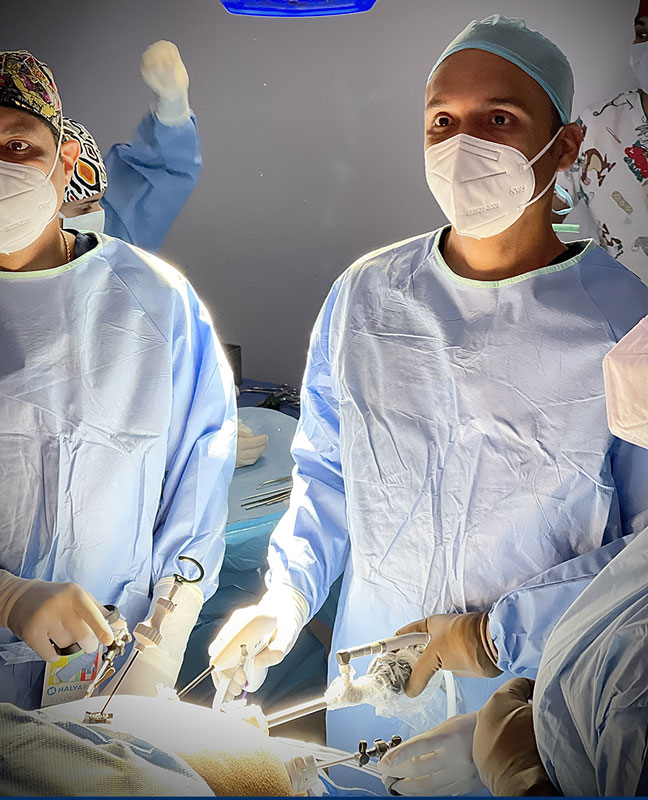 If you had problems losing weight and you had tried many times without achieving it, you are now in the right place. I am here for you, to instruct you and teach you what you need to know about obesity, weight loss and bariatric procedures like gastric sleeve, gastric bypass and more. I'm based in the Dominican Republic and welcome patients from all around the globe to enjoy a healthier lifestyle. Thank you for taking this time in the search of options to improve your health. Guiding you will be an honor.
CALL TO US: 809-473-6925
What is bariatric surgery?
Bariatric surgery is an operation that helps you lose weight by making changes to your digestive system. Some types of bariatric surgeries make your stomach smaller, allowing you to eat and drink less at one time and making you feel full sooner. Other bariatric surgeries also change your small intestine—the part of your body that absorbs calories and nutrients from foods and beverages.
Bariatric surgery may be an option if you have severe obesity and have not been able to lose weight or keep from gaining back any weight you lost using other methods such as lifestyle treatment or medications. Bariatric surgery also may be an option if you have serious health problems, such as type 2 diabetes or sleep apnea, related to obesity. Bariatric surgery can improve many of the medical conditions linked to obesity, especially type 2 diabetes.
Bariatric Surgery Procedures
There is a great amount of importance and responsibility associated with choosing a weight-loss treatment option. Choosing which type of bariatric surgery is right for you can be a difficult task. It is our goal to provide you with education regarding the different types of bariatric surgeries.
This knowledge can assist a discussion between your physician and you in deciding the most appropriate treatment selection for you. Proper follow-up and participation in a multidisciplinary program that stresses lifestyle modification (dietary, behavioral and exercise changes) will improve the chances that a bariatric surgery patient will maximize their weight-loss and maintain it for a lifetime.
Adjustable Gastric Banding.
Sleeve Gastrectomy.
Roux en-Y Gastric Bypass.
Biliopancreatic Diversion with Duodenal Switch.
Neuromodulation.
Does bariatric surgery always work?
Studies show that many people who have bariatric surgery lose about 15 to 30 percent of their starting weight on average, depending on the type of surgery they have. However, no method, including surgery, is sure to produce and maintain weight loss. Some people who have bariatric surgery may not lose as much as they hoped. Over time, some people regain a portion of the weight they lost. The amount of weight people regain may vary. Factors that affect weight regain may include a person's level of obesity and the type of surgery he or she had.
Bariatric surgery does not replace healthy habits, but may make it easier for you to consume fewer calories and be more physically active. Choosing healthy foods and beverages before and after the surgery may help you lose more weight and keep it off long term. Regular physical activity after surgery also helps keep the weight off. To improve your health, you must commit to a lifetime of healthy lifestyle habits and following the advice of your health care providers.
Benefits
Within two to three years after the operation, bariatric surgery usually results in a weight-loss of 10 to 35 percent of total body weight, depending on the chosen procedure. Those considering bariatric surgery should talk to their PCP about what their personal expectations should be for loss of excess weight. In addition, comorbidities, such as diabetes, high blood pressure, sleep apnea and others are often reduced or may go into remission. Most will find they require fewer medicines throughout time and many will discontinue their medicines completely.
WHY CHOOSE US FOR BARIATRIC SURGERY?
We provide pre-surgical evaluations and perform surgical procedures in our main office located at Luis F. Thomén # 457 Dominican Medical Center Santo Domingo, Dominican Republic.
Obesity is a complex and chronic medical disease. From the clinical history and eating behaviors to a series of psychological concerns, our patients are thoroughly evaluated by a multidisciplinary team. Our team uses the latest in research, technology, nutritional, behavioral and psychological support to provide our patients the best possible care.
Due to our experience with all bariatric surgery options, our experts can accurately recommend the best surgical treatment for each patient.